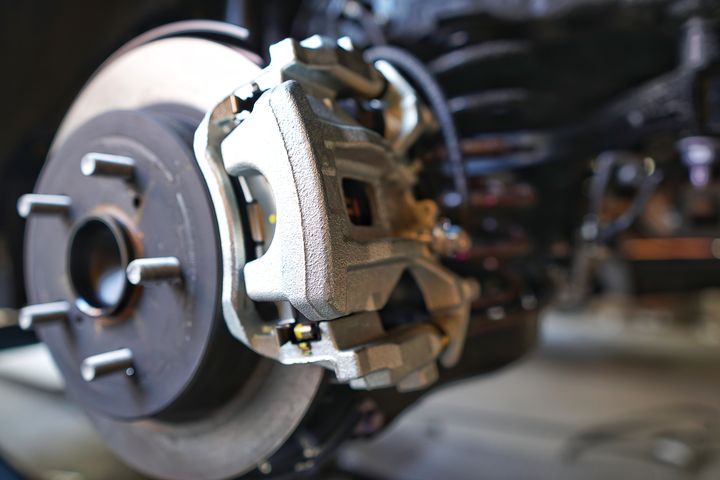 What types of brakes does my car have?
Your vehicle has an anti-lock braking system, which allows you to steer as your brakes are engaged. In addition to this, most cars have two or three types of brake systems. These brake systems have several parts, including brake pads and rotors. If any of these brake systems are wearing out, it is crucial to bring your car into Luyet Automotive for an inspection before their condition worsens. These brake systems are:
Disc Brakes - If you look through one of your car's wheels, you will see a shiny metal disc just inside. This is called a disc brake, also called a front brake. When the driver steps on the brake pedal, a pad of hard-wearing material clamps onto the brake disc and rubs it to make it slow down—in a similar way to bicycle brakes.
Drum Brakes - Some cars have disc brakes on all four wheels, while others have disc brakes on their front wheels and drum brakes on their back wheels. Instead of the disc and brake block, drum brakes have shoes inside the hollow wheel hub that press outwards. As the shoes push into the wheel, friction slows you down.
Handbrake - Your vehicle's handbrake applies force to the disc and drum brakes in a slower, less forceful way via a lever that's located between your car's two front seats. When you pull on the brake, a system of levers tugs on a pair of sturdy cables that apply the brakes to the back wheels. The handbrake system is completely mechanical and does not use brake fluid like the disk and drum brakes, so it can be used as an emergency brake (with great care) when the other brake systems fail.
What are brake rotors and how do they work?
Your vehicle's brakes are powered by hydraulic pressure caused by brake fluid. Brake rotors are part of your vehicle's disk brake system. It is an iron disc that is connected to the tire's hub that works together with the brake pads to stop your vehicle. Each side of your vehicle's tire has a brake rotor, and these rotors are connected by ribs. When you press your brake pedal, your brake pads squeeze the brake rotors in order to get your vehicle to slow down.
Over time, both your brake pads and brake rotors wear down and need to be replaced. When the time comes for brake pad replacement or brake rotor replacement, do not hesitate to come to Luyet Automotive in Faulkner County. Brake pads have a much shorter lifespan compared to brake rotors, and when your brake pads are worn you will notice that your vehicle does not brake as effectively as usual. This means it is time to replace your brake pads. Replacing rotors should take place every 70,000 miles or so; however, sometimes the brake rotor may need resurfacing to smooth their surface if they have worn down unevenly. Our Expert technicians can determine if your brake rotors need resurfacing or replacement.
Other brake components include:
Brake calipers: Brake calipers are a clamp that houses the brake fluid, brake pistons, and brake pads. With good and regular maintenance, brake calipers can last a long time.
Brake pistons: The brake pistons press against the brake pads to create friction on the brake rotors that causes your vehicle to slow down or stop. If your vehicle is leaking brake fluid, it is a sign that your brake pistons need to be replaced.
Brake drums: Brake drums are your vehicle's drum brake system. They are hollow and turn with your vehicle's tires. Brake drums are built with longevity and with proper care, can last for over 100,000 miles.
Brake fluid: Brake fluid activates the brake pistons, which causes your brake pads to slow your vehicle down. If there isn't enough brake fluid, the pistons won't activate properly. Whether you drive a Chevrolet, Dodge, Ford, or GMC, we at Luyet Automotive recommend getting your brake fluid flushed and replaced every 20,000 miles or two years.
Your Reliable Shop for Brake Rotors Repair
If you are having an issue with your brake rotors, Luyet Automotive in Conway is your place to go. Our team of Quality technicians have decades of experience and are experts in all things auto repair, including brake service and brakes repair, Auto Repair, Tire and Alignment Service, and brake rotors repair service. We are one of the most reputed auto repair shops in the area and can improve your vehicle's brake performance efficiently and cost-effectively.
Reasons You Should Do Business With Us:
Transparency
Honesty
Integrity
We are Experts
Years of Experience
We've been fixing cars since 2012 and are experts in all things auto repair. We have a review score of 100 based on reviews from 858 satisfied customers. If you are in the 72032 area or in Conway, AR, Greenbrier, AR, Quitman, AR, Mayflower, AR, or Twin Groves, AR, don't hesitate to schedule an appointment with Luyet Automotive, either online or via phone at 501-764-1500.
Luyet Automotive - Quality you Can Trust, at a Fair Price