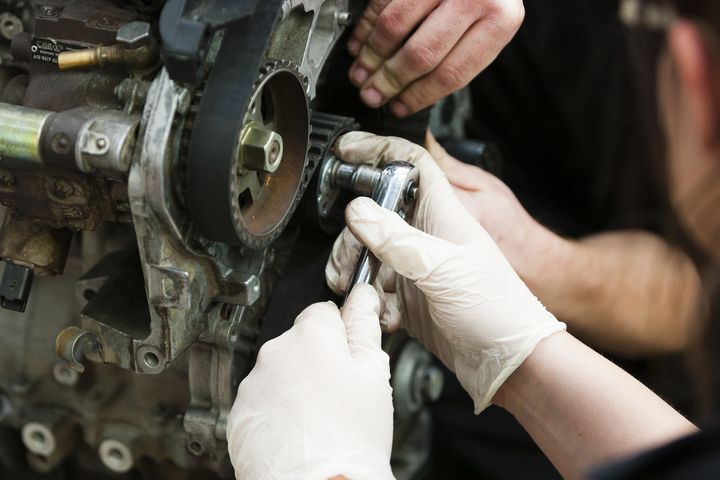 Your Reliable Timing Belt Tensioner Replacement Destination
Inside your engine, the timing belt keeps the upper and lower portions of your engine moving in sync. A tensioner is used to keep the belt tight and moving smoothly. This fundamental component keeps your engine running properly. When a timing belt issue occurs, it's typically the tensioner at fault and not the belt itself. Proper vehicle maintenance calls for timing belt replacement every 50 to 70,000 miles; the tensioner and idler pulley should be replaced at this time as well. When your vehicle requires timing belt service or timing belt tensioner replacement in Conway or Faulkner County, choose the specialists at Luyet Automotive. Our dedicated customer care team will make sure your experience is pleasant, while your timing belt tensioner replacement is completed precisely.
Accurate Timing Belt Tensioner Replacement
Timing belt failures are often caused by a weak tensioner. If the timing belt tensioner fails, your car simply will not run. You should get a timing belt tensioner replacement if you have an engine rattle, or at the time your timing belt is changed. Whatever your vehicle's symptom, visit Luyet Automotive for a professional inspection. Luyet Automotive is staffed by ASE-Certified technicians with the right experience and training to perform accurate timing belt tensioner replacements. We use the latest high-tech equipment and procedures for long-lasting results. Whether your Chevrolet is running rough or you need a new timing belt on your Dodge, you'll be back on the road in good time with reliable timing belt replacement by Luyet Automotive in Conway. For precise timing belt tensioner replacement in Conway, AR, trust the specialists at Luyet Automotive. Call us today or use our convenient online appointment form to schedule your visit.